#2652
Challenging Conventions: Opening up New Spaces in Learner Development (ONLINE SESSIONS)
Sun, Jul 10, 11:45-13:15 Asia/Tokyo
This forum will examine how new learning spaces can help learners grow beyond conventional education environments. Presenters will explore holistic and ecological perspectives on learners' growth, taking into account multiple aspects of their experiences, their interactions with others, and different affordances in diverse learning environments and spaces. The forum will include both studies that shed new light on the impact of sociocultural and psychological factors on the development of learner autonomy, as well as practice-related accounts that explore learners' practices in a range of learning spaces outside of conventional classroom settings. In the forum participants will have opportunities in pairs and small groups to discuss and reflect on different non-conventional environments, spaces, and processes that learners can access and/or use. The combination of these theoretical and practice-based perspectives will encourage us to think about learner development from fresh angles, not only under the current and post-pandemic situation, but also beyond, so that we can come away from the forum with fresh ideas for challenging conventions and opening up new spaces in learner development in our own learning, teaching, and research.
Round One 11:50 to 12:20 Phillip A. Bennett and Isra Wongsarnpigoon and Andrew Barfield
Round Two 12:20-12:50 Yuri Imamura and Michael Kuziw
Hello, everyone. I'm Tim. I'm the LD Coordinator and I'll be hosting the online part of this forum. I am really excited to hear all the presentations and discussions at the forum. I also look forward to meeting you around the conference. Please introduce yourself, as I'm still new to LD! Thanks

Hi, I hope you can make it to the conference and look forward to talking with you there ---

Michael Kuziw is a lecturer at Jin-ai University. He has 12 years experience working as an ALT at public elementary and junior high schools in Fukui. His interests include adapting children's literature for pedagogical purposes (including yomikikase), teacher training, and teacher self-efficacy.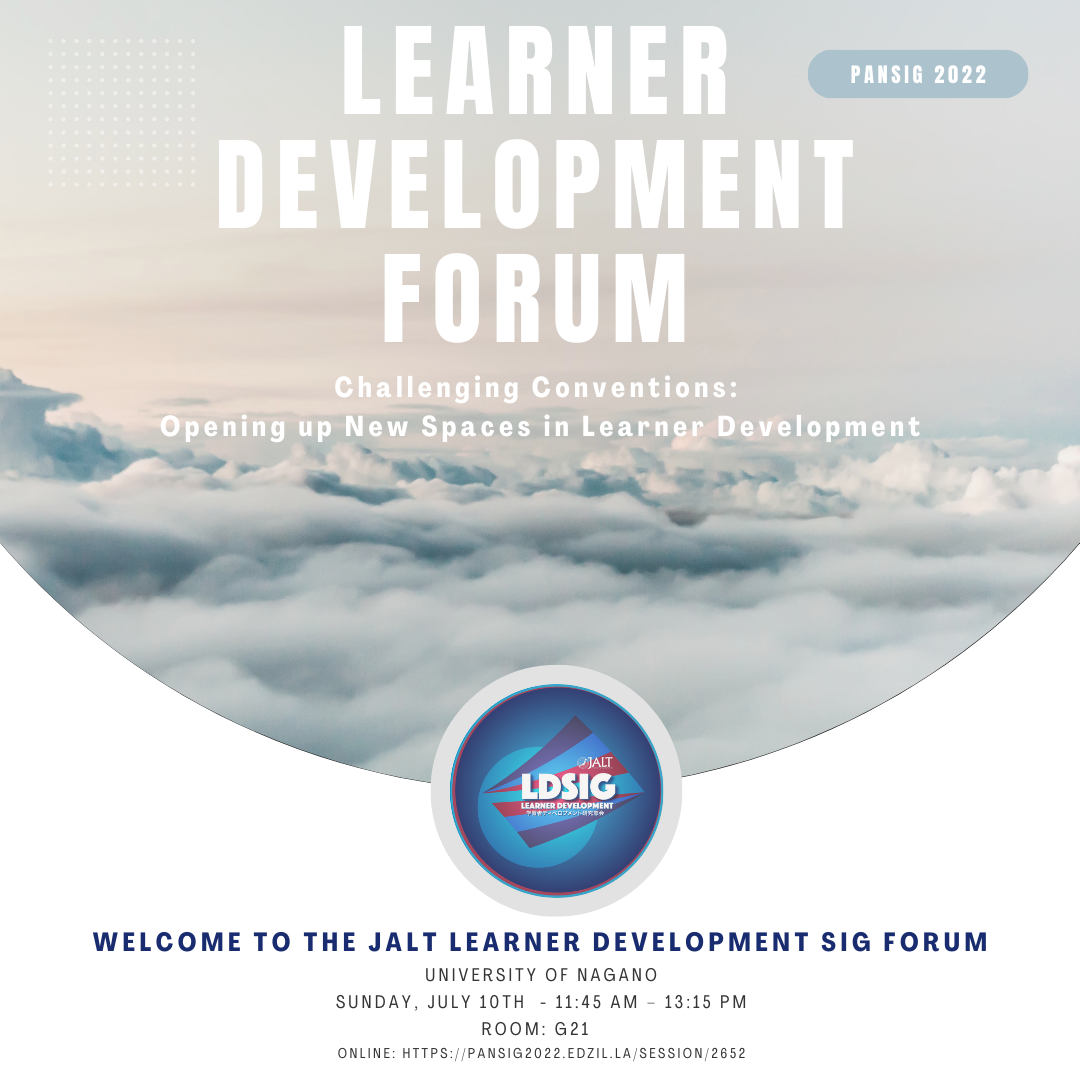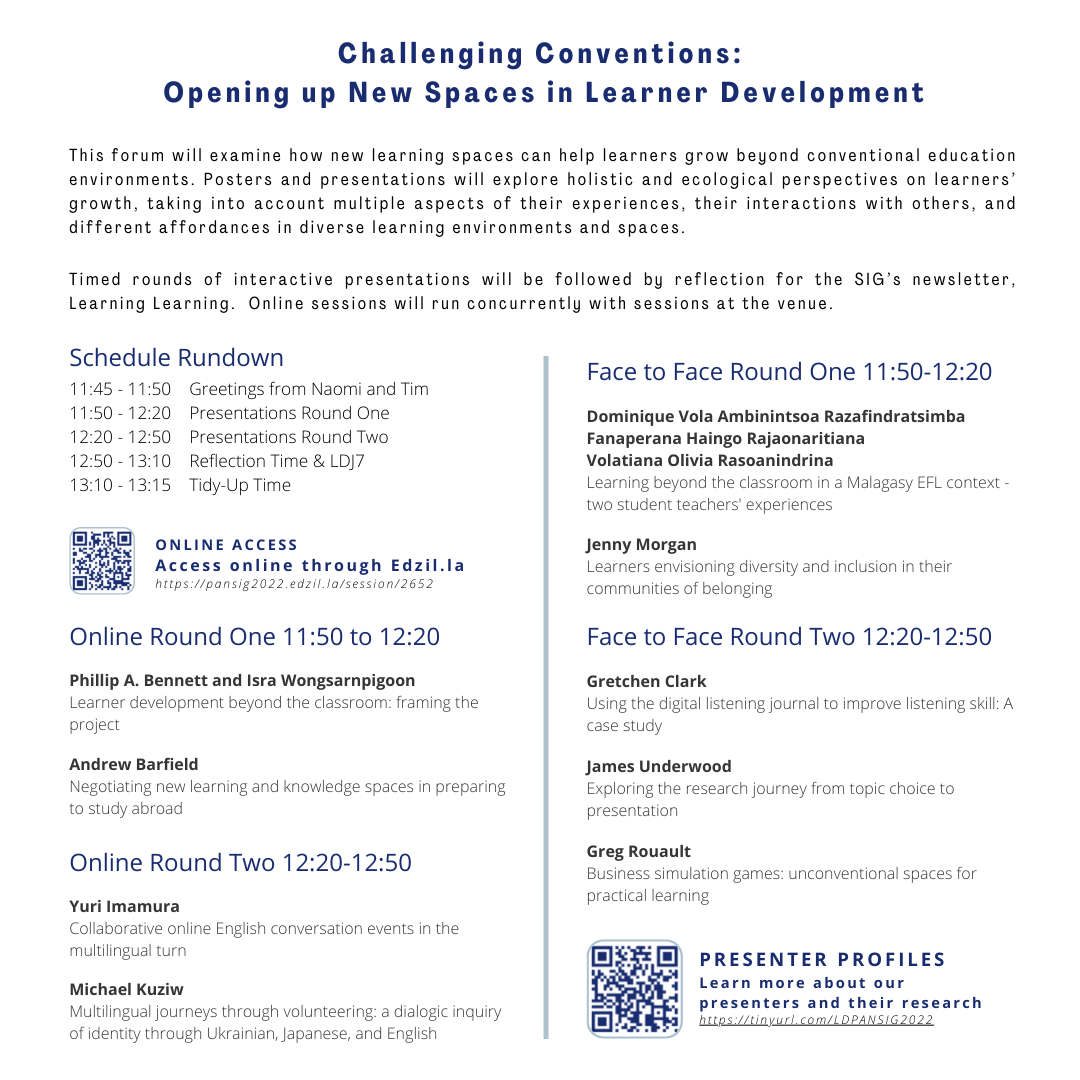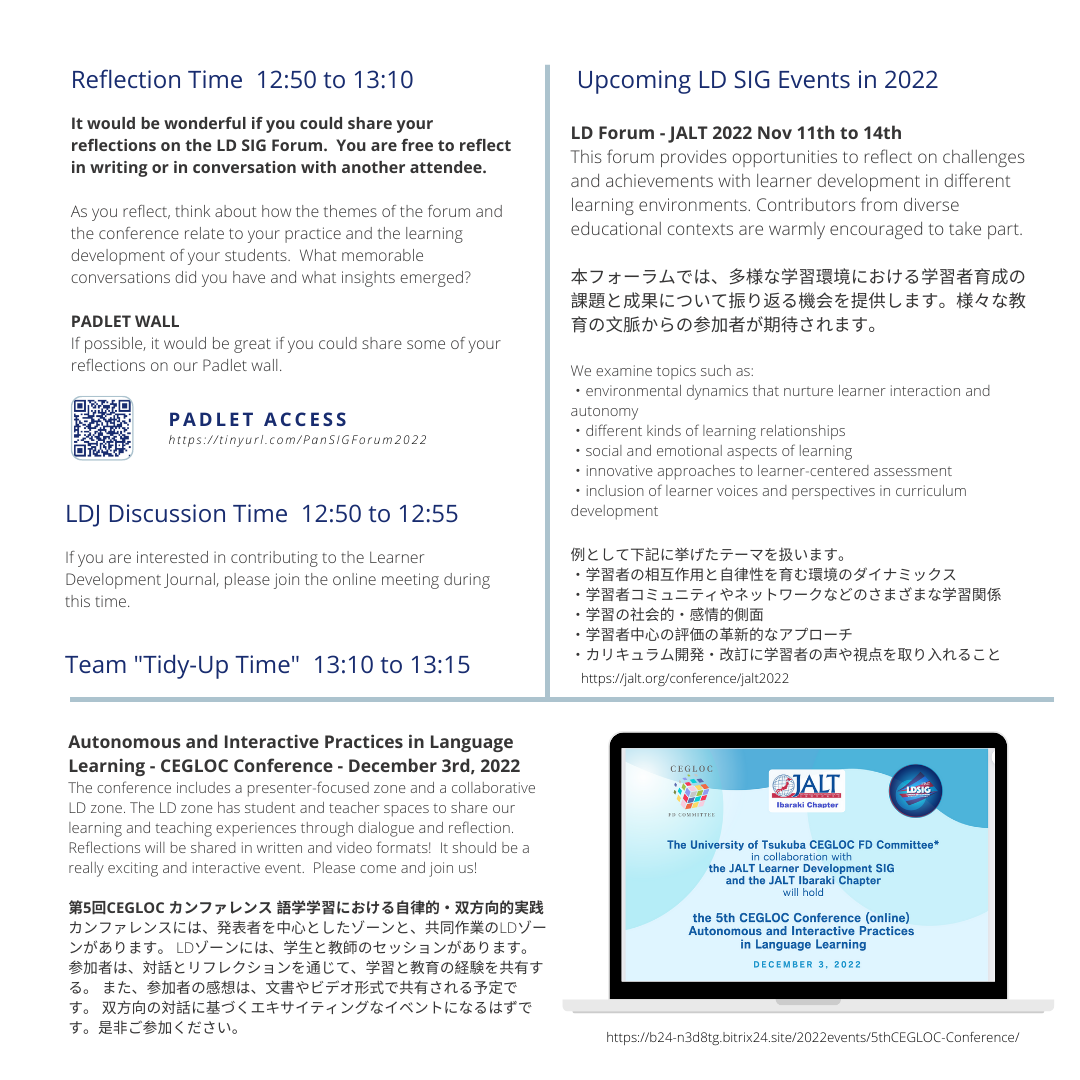 Presenter Profiles and Research
https://tinyurl.com/LDPANSIG2022

Reflection Padlet Access
https://tinyurl.com/PanSIGForum2022