Welcome to PanSIG 2022 in Nagano!
Conference Theme: (Re) Imagining Language Education
Scroll down for more information about the conference
Important Announcements
Here are some important things to remember as you make your way to the PanSIG conference.
More Guidelines

Please download if needed.

The venue has asked that we help them keep the university clean as they have many carpeted areas.

Need Help?

Have Questions?

Please reach out to your committee

We are there to help
We have shuttle buses available for anyone who needs a ride. Please see the schedule. And if you are interested, here is the form to fill out. Application Form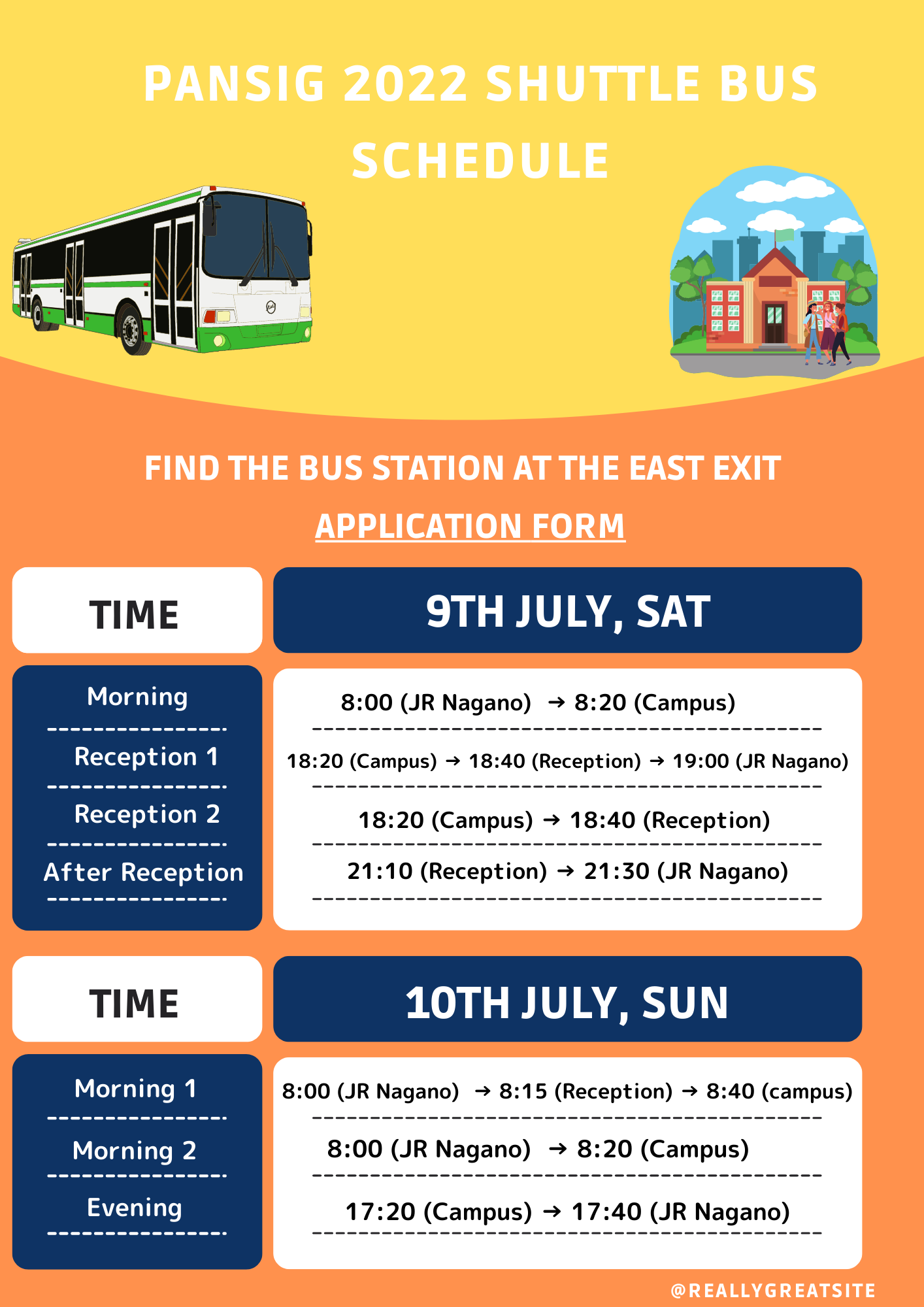 Face-to-face at the University of Nagano: July 8-10, 2022
Please come and join us for the 21st annual PanSIG conference!
*** Face-to-Face Pricing ***
JALT (Pre-registration) ¥7,500
Non-JALT (Pre-registration) ¥9,500
JALT (Students) ¥500 - Non-JALT (Students) ¥2,500
JALT (On-Site) ¥9,500
Non-JALT (On-site) ¥11,500
** Online Pricing **
Limited Online Option (only four plenary live streams and SIG forums live streams)
JALT members ¥ 3,500
Non-JALT members ¥5,500
JALT Students ¥500 - Non-JALT Students ¥2,500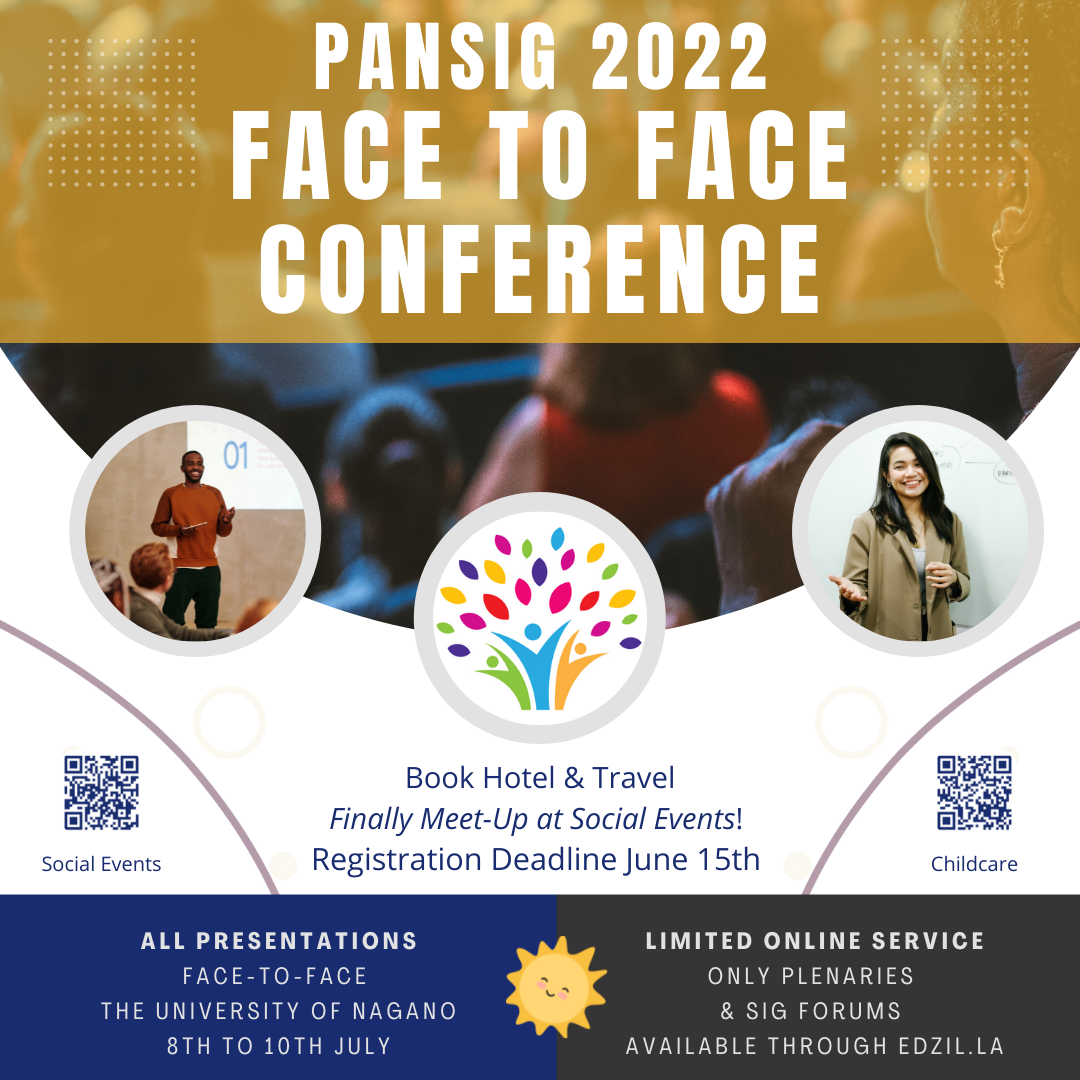 PanSIG has graciously been offered a Grant of 50,000 this year to help students in need. This grant has been given anonymously from a member of the school owners special interest group.
Students may apply for a grant to receive free entry at PAN SIG.
Parents may apply for a grant to receive free or subsidized childcare at PAN SIG.
Student parents may receive both.
This is provided by the School Owners' SIG as an appreciation for everyone studying English, especially those with children. Our sincere gratitude goes out to the School Owners Special Interest Group for donating this special gift to students. Please contact: program@pansig.org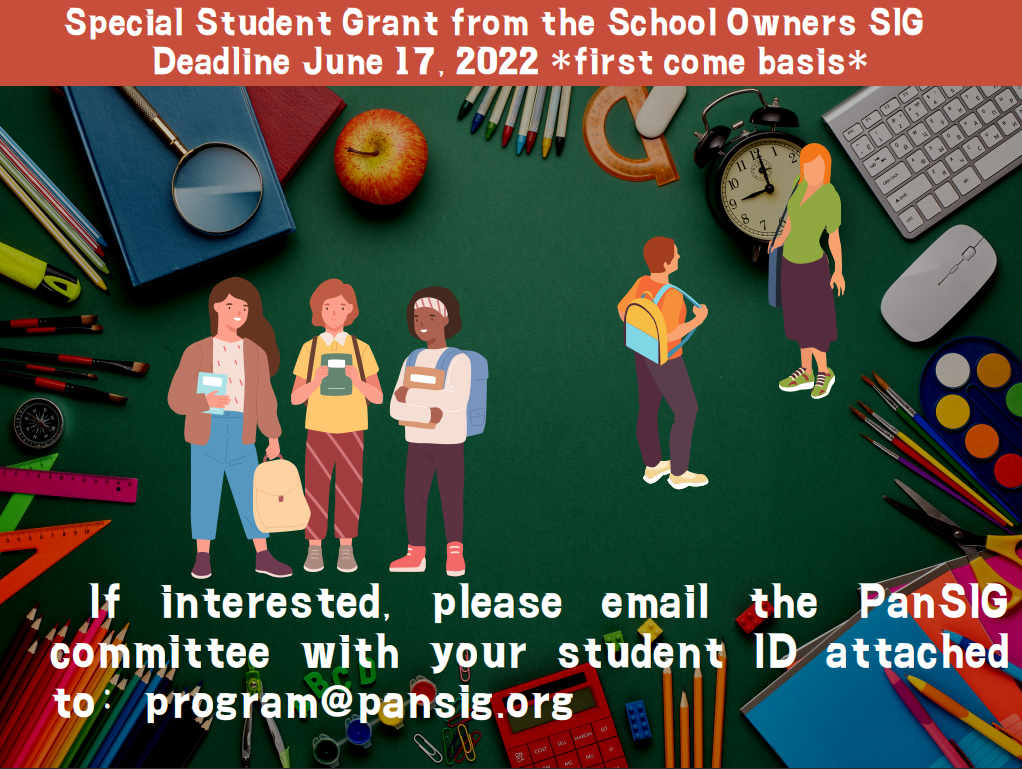 Thank you for your interest in applying for a PanSIG 2022 conference grant. We want to provide JALT members with limited access to outside funding the opportunity to take part in at the 2022 PanSIG Conference in Nagano.
If you have any questions about the grant or the application process, please contact 2022 PanSIG Conference Chair (Koki Tomita) at confchair@pansig.org or the PanSIG Grants Chair at grants@pansig.org. Here is the Google Form to apply: PanSIG Conference Grant Application (2022) (google.com)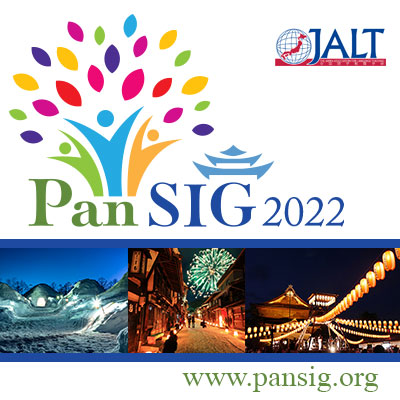 What?  EVE stands for Equal Voices in ELT. It is an initiative that we originally created to recognise both gender and highly proficient speaker * parity in keynote and plenary line-ups* for ELT conferences and events worldwide. We began with a suite of three badges recognising gender parity, L1/L2 speaker parity and a combination of both, then in 2022, the badges were modified to recognise a greater degree of representation and inclusion.
For more information, please click on picture.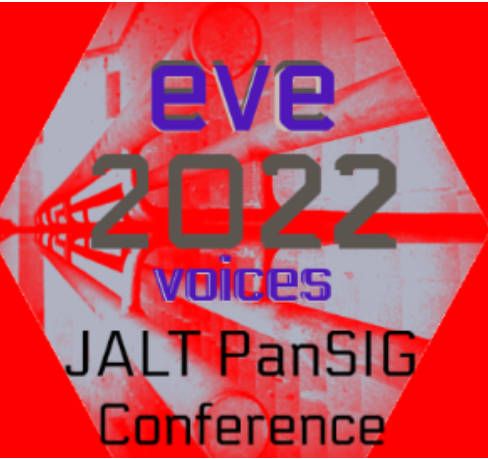 Our Sponsor
ZenGengo Supercharge your language teaching with ZenGengo!
We are presenting TWICE on Saturday July 9th :-)
Sat, Jul 9, 11:45-13:15: How to Create an Online Textbook or Workbook
Sat, Jul 9, 15:15-15:40: Nation's Four Strands and Digital Language Pedagogy with ZenGengo
Supercharge your language teaching with ZenGengo!
Whether your classes are face-to-face, blended, hybrid or fully online, ZenGengo helps language teachers to create engaging and interactive online assignments in just minutes.
With 10 assignment types that have been specially designed for language learning, ZenGengo covers all 4 language skills: listening, reading, writing, and speaking. Features such as AI voice recognition, text-to-speech, and auto-grading save teachers countless hours while ensuring that students remain motivated and challenged on the path to greater proficiency.
Personalized scoring and feedback are available for Audio Recordings, Video Recordings and Written Reports. Feedback is simple to administer and can be offered in three modalities: text, audio and video.
Free Lesson Library
ZenGengo also has a large (and ever-growing) library of pre-made content. No subscription is required to browse lessons or share them with your students, but those who join ZenGengo can import and modify lessons as well as track student progress and administer feedback. The library can be searched by title or by CEFR level, and you're sure to find plenty of inspiration for your language classes.
ZenGengo Academy
Just for Japan, we have recently launched ZenGengo Academy, an online service for providing CEFR-levelled homework tasks aimed at university students. Teachers can use the platform for free while students purchase access cards from the campus bookstore. Those interested in signing up for ZenGengo Academy should contact us directly at support@zengengo.zendesk.com.