Welcome to PanSIG 2022 in Nagano!
Get your ticket now!
Conference Theme: (Re) Imagining Language Education https://www.youtube.com/watch?v=jvZPDxFJtwk
University of Nagano: July 8-10, 2022
Please come and join us for the 21st annual PanSIG conference!
JALT (Pre-registration) ¥7,500
Non-JALT (Pre-registration) ¥9,500
JALT (Students) ¥500
Non-JALT (Students) ¥2,500
JALT (On-Site) ¥9,500
Non-JALT (On-site) ¥11,500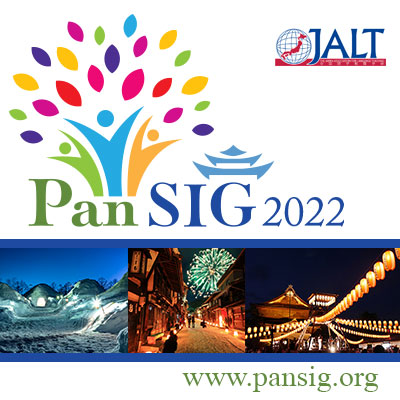 Conference Registration and COVID
We are excited for the upcoming PanSIG2022 conference and hope you are too! We have received inquiries regarding when conference registration will open. As you know, the COVID-19 situation is still creating uncertain conditions. Some of the decisions are out of the power of the PanSIG committee. Rather than risk confusion (e.g. need for refunds or adjustments if the conference is moved online), we have decided to wait on allowing registration payments until further notice.
We hope to open it around 2 months prior to the event, but we cannot confirm anything at this time. We appreciate your patience and understanding as we work to hold the best and safest event for all participants. For questions, please use this email (registration@pansig.org).

Thank you for your interest in applying for a PanSIG 2022 conference grant. We want to provide JALT members with limited access to outside funding the opportunity to take part in at the 2022 PanSIG Conference in Nagano.
If you have any questions about the grant or the application process, please contact 2022 PanSIG Conference Chair (Koki Tomita) at confchair@pansig.org or the PanSIG Grants Chair at grants@pansig.org. Here is the Google Form to apply: PanSIG Conference Grant Application (2022) (google.com)