Welcome to PanSIG 2022 in Nagano!
https://pansig.org/cfp
Conference Theme: (Re) Imagining Language Education
General Information
University of Nagano: July 8-10, 2022
How to Submit a Presentation

You will find help videos in Japanese and English at the bottom of the submission form.

Step 1: click on "Make Submission" Step 2: click on "PanSIG 2022 Presentation" Link Step 3: Read directions then click on "Go to Submission Form" at the top Step 4: Fill in form for your submission then click "Submit"

That is it. Now you just wait until you hear back from us. Thank you!

What is PanSIG

PanSIG is an annual conference sponsored and organized by many of JALT's Special Interest Groups (SIG). Currently there are 30 special interest groups in JALT. PanSIG is meant to be a smaller, more intimate conference than the annual international JALT conference, and is a place where SIG members can network with each other and other SIG members. The first PanSIG was held in 2002, so this will be our 21st event. Please come and join us in this exciting event.

Plenary

Mehrasa Alizadeh - Reimagining Technology Enhanced Language Learning: Looking Back, Moving Forward

David Beglar - The Well-Balanced Individual: A Challenge for Educators

Featured Speaker

Coming Soon

Special Events

What is happening during the conference?
Thank you for your interest in applying for a PanSIG 2022 conference grant. We want to provide JALT members with limited access to outside funding the opportunity to take part in at the 2022 PanSIG Conference in Nagano. The application deadline is January 31st, 2022.
If you have any questions about the grant or the application process, please contact 2022 PanSIG Conference Chair (Koki Tomita) at confchair@pansig.org or the PanSIG Grants Chair at grants@pansig.org. Here is the Google Form to apply: PanSIG Conference Grant Application (2022) (google.com)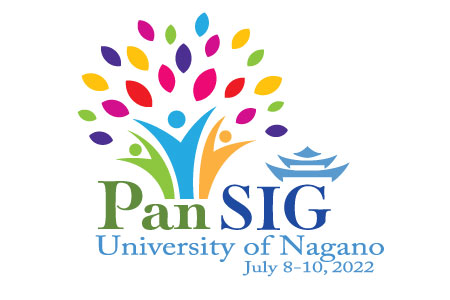 PanSIG 2022 Plenaries
Date: Saturday July 9, 2022
Time: TBA later.
Date: Sunday July 10, 2022
Time: TBA later.
Mehrasa Alizadeh

Reimagining Technology Enhanced Language Learning: Looking Back, Moving Forward

Technology enhanced language learning (TELL) has evolved considerably since its early days, and immersive technologies such as augmented reality and virtual reality will significantly transform the way we approach learning moving forward. It is therefore important for academics and professionals to know about immersive learning and how it can help reimagine the future of TELL. In fact, immersive technologies have made their way into different sectors and industries such as entertainment, arts, manufacturing, marketing, healthcare, and education. Aside from their use in content knowledge acquisition, immersive technologies provide affordances that are highly valuable for learning such as sense of (co-)presence, embodied interaction and communication, and emotional engagement. However, their use is still limited in language education due to reasons such as low access to resources and unfamiliarity of teachers with immersive learning design. In this talk, I will introduce immersive technologies and argue that these technologies will immensely change the way we interact with digital media in future iterations of the Web. In the rest of my talk, I will connect that introduction to recent trends of research and practice in immersive learning and the affordances and challenges of these technologies in creating novel learning experiences. I will also touch upon the impact of the COVID-19 pandemic on development and implementation of immersive technologies in learning contexts.  

Dr. David Beglar

On an individual level, a key purpose of education is to bring forth the latent abilities that exist in each person. On a societal level, a primary purpose is to contribute to the emergence of an ever-advancing civilization. These purposes are intimately related and can be achieved when individuals act on the basis of an evolving set of knowledge and skills that has practical and beneficial applications, positive emotional health, an ethical foundation in which the welfare of others is important, and an ability to think creatively. Although foreign language teachers are primarily responsible for supporting their students in their efforts to perform the challenging task of acquiring an additional language, foreign language classrooms can—and arguably should—be the site of more diverse types of learning that help learners develop their innate abilities in ways that touch on four aspects of what it means to be human: cognition, affect, ethics, and creativity. These four overlapping aspects can be embedded in language-learning tasks in ways that can potentially lead to cognitive development, the healthy expression of emotion, ethical thinking, and new and interesting angles on ideas and ways of acting in the world.